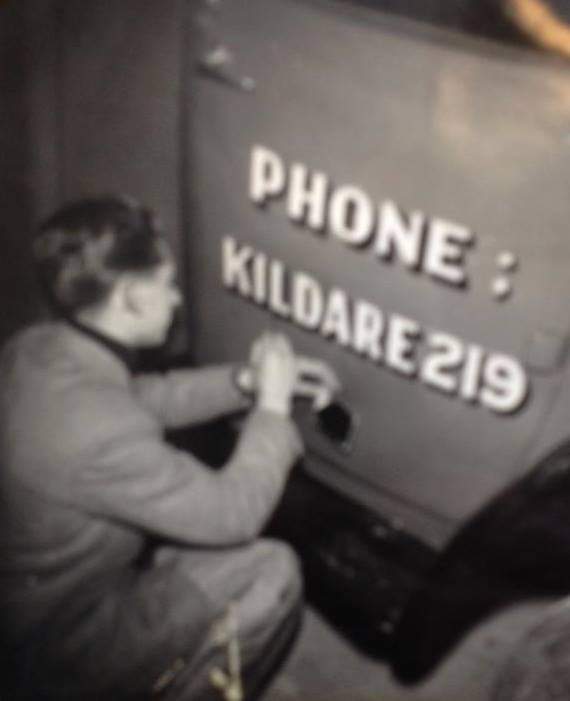 The journey for SignsLogos.ie began with my father, Leo Darbey. He was born in 1934, into a coach-building family, based in Sandymount, Co. Dublin. The skills and artistry seen in our work today can be traced back to the processes involved in coach-building. The coaches worked on during the time were the typical old-fashioned industrial models with very sizable wheels. It is working on the wheels specifically, where we find the initial links to the gilding process we utilise in our work presently. They would spin the wheel around, whilst holding the brush against it, thus creating the lines. It is here, where the journey began!
Leo was born into the industry, and as a result, so was I. The middle child of five, I would begin working with him from my early teens. I had two elder siblings who helped keep the business going while my Mother Angela looked after the accounts. In time my sister and brother took different career paths and it was my turn to get involved. I took to it straight away! I found Leo's artistry inspiring, as he could blend his free-flowing creative nature, with keen meticulous attention to detail. A true artist, who's talent range exceeded that of just the visual arts, Leo also had a deep passion for music, seen most prominently when he was playing the trumpet in his jazz band!
Initially, when I started working with Leo, we would work from home. He still worked primarily on vehicles. I recall vividly our working process, Leo would signwrite on one side of the van, getting all the paintings, colours and details necessary included. I would then trace it, bring the tracing to the other side, to ensure both sides were identical. This is where my personal journey truly began. Later, we would travel around to different body shops, working on vehicles and carrying out the same process for them.
Tragically, Leo passed away in 1986, and I was fully thrown into the business aged 21. My mother, my siblings and I were determined to keep the business going. Keeping up with Leo's business contacts from down the years helped to ensure the business would succeed. It is through doing this where I realised, that I needed to evolve and grow the business. About 5 years after Leo had passed, the business had earned enough money and I invested in a computer and a plotter. This allowed the business to expand into the vinyl graphics industry.
The gilding aspect of the business would continue to grow and grow. Sometimes I would get a job where a sticker was not feasible as it would fall off. A common example would be an outdoor shutter, where it could be worn away easily by nature.
The benefits of gilding are multifold. It is a far more eco-friendly approach than that of using signs, made of plastic. In addition to this, the result is far more eye-catching and alluring. The gold aesthetic lends itself to an air of mysticism, magic and royalty. The gold used is 24 karat, ensuring the highest quality. In terms of SignsLogos.ie, this quality is mostly associated with and measured by longevity. Gilding ensures a far more long-lasting result than stickers. Yes, stickers are both cheap and cheerful, but they can be undone and worn away easily by natural elements. The result and aesthetic of gilding, especially when combined with your own personalised design, allows you to convey an identity that you and your business can take pride in.